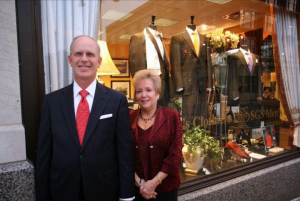 We here at Stephan G. Sanders Clothiers cater to the gentleman who is interested in getting the most impact out of his wardrobe. Whether it's custom clothing featuring extraordinary fabrics from around the world, or famous brand clothing from some of the most established manufacturers in the industry—either way, we invite you to visit our store in downtown Evansville, IN. We also offer appointments with our clients in the convenience of their office of home.
When it comes to men's apparel and being able to shop in comfortable surroundings with someone who takes a sincere interest in your wardrobe, SGS Clothiers is a refreshing exception in a world dominated by big box stores and nameless sales associates. Since 1974, Steve has built a reputation on providing exceptional personalized service and quality branded apparel.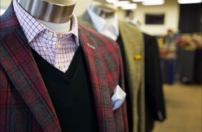 We specialize in men's suits, sport coats, formalwear, dress and casual Trousers, topcoats, lined rainwear, casual and luxury sportswear, dress shirts, neckwear, shoes, furnishings, and accessories. Actually, SGS Clothiers offers everything a gentleman needs to dress confidently, for the week or weekend.
As you visit our web site you will learn the value and pleasure of a wardrobe that complements your lifestyle and physique. If you have any questions, we encourage you to contact us, or stop by.